Welcome to Cornerstone Baptist Church
2006 William Avenue

Montevideo, Minnesota
320-269-8841
"Jesus Christ, Himself, being the Chief Cornerstone..."


Morning Worship: 9:30 AM

Sunday School: 11:00 AM
OUR ANSWERS to your questions
---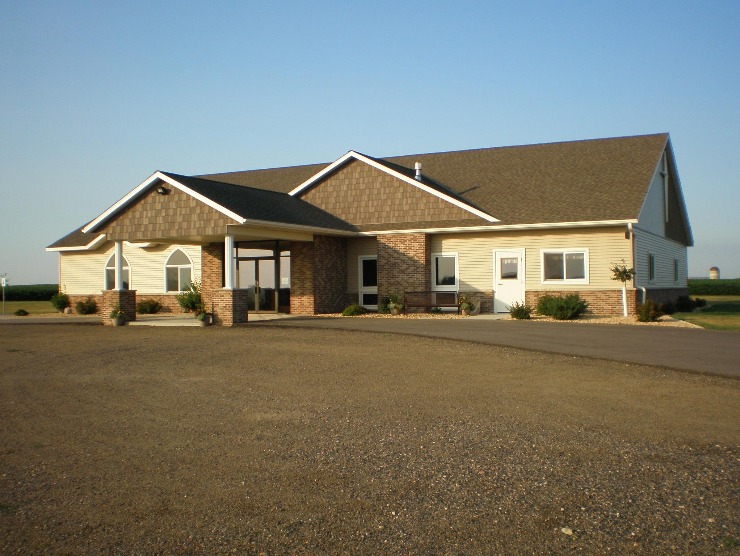 A Brief History
Cornerstone Baptist Church held its first service in September of 2001 with 15 people present. God has marvelously blessed us over the years, allowing us grow in numbers and to construct our present building which we moved into in April of 2008. By December of 2011 we were debt free and today have plans already drawn up for a future expansion. With dozens of family units in our church, you will find a great variety of people of all ages to get to know and fellowship with.
A Brief Summary of Our Beliefs
We believe the Bible is the inspired Word of God and thus complete and without error. God exists as a trinity; Jesus Christ is both true God and fully man; the Holy Spirit is a Person equal to the Father and Son. Man was created by God, fell into sin, and is unable to redeem himself from his lost condition. The shed blood of Jesus Christ provides the only basis for salvation for all who believe and receive Him as Savior. The local church is God's primary place for fellowship and ministry of the gospel today. Jesus Christ is coming back at any moment to receive believers into heaven and later to return to earth with them to set up His millennial kingdom. (A full statement of our beliefs is available for the asking.?
A Brief Listing of our Associations
Our church, while a completely autonomous entity, has chosen to fellowship with the Minnesota Association of Regular Baptist Churches (www.marbc.org) and on a national level the General Association of Regular Baptist Churches (www.garbc.org). We financially support missionaries around the world through Baptist Mid Missions (www.bmm.org), Baptist World Mission (www.baptistworldmission.org), and Mission Aviation Fellowship (www.maf.org).
Sunday Morning Worship
Our service begins at 9:30 AM but feel free to come early for a cup of coffee and sweet snack. In our service we typically sing hymns and newer choruses, memorize Scripture together, are blessed by testimonies and special music, send the youngest children off to Children's Church after a platform challenge, and then spend the remainder of our time together in the Word of God through expository preaching. We are currently going through the book of I Thessalonians. CD's of past sermons are available.
Sunday School
Since Covid hit our area, we moved our Sunday School hour from evening to 11:00 AM. The adults are currently going through the book of Romans passage by passage learning the details and applying the principles to our lives. The format is more discussion oriented lending itself to great questions and answers shared by all. The Sunday School hour is set up with classes for all ages. While it follows the Morning Worship Service by 10 minutes, it generally begins at 11:00 AM and usually lasts around 45 minutes.
Pacebook 

is our children's Bible club held after school on Wednesdays. It is for children in kindergarten through 6th grade.
Left Right Center

is our youth group time for teens 7th through 12th grade. We meet at 6:15 PM each Wednesday beginning with supper together.
Soul Sisters

is a ladies fellowship group that meets the second Monday night of each month at 6:30 PM.
Other Opportunities

include an occasional men's fellowship breakfast, a ladies Friday Bible study, and a ladies sewing circle.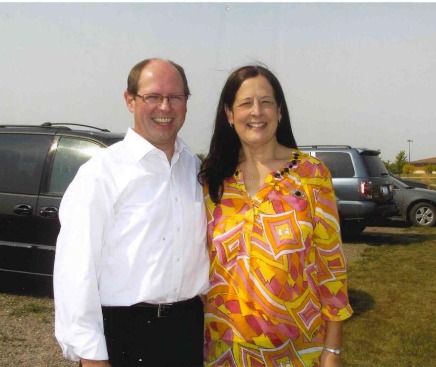 Pastor John & Chris Runyan
Pastor John and his wife, Chris, moved to Montevideo in June of 2001. Both are Nebraska born and both are graduates of Faith Baptist Bible College and Theological Seminary in Ankeny, Iowa. John was a youth pastor in Creston, Iowa for three and one half years before moving to Emmetsburg, Iowa to help plant a church there. After 17 and one half years of ministry there, they moved to Monte to establish Cornerstone Baptist Church. Chris grew up in Monte after her folks moved here in the late 50's. The Runyans are now empty nesters after having adopted five girls. Chris keeps busy as a pastor's wife, while John enjoys substitute school teaching on occasion. Pastor John has a passion for the Word of God--making it understandable and making it applicable to our daily lives.
We often talk of the three 'R's' of education: reading, (w)riting, and (a)rithmetic. Our basic message of salvation can also be boiled down to three 'R's': Recognizing, Repenting, and Receiving. Scripture teaches that we must recognize or acknowledge the fact that we are born sinners and because of that sin, make it impossible to save ourselves from eternal condemnation. No amount of righteous deeds or religious rituals will pay the price for our sins. (Romans 3:23; Romans 6:23) In repenting, we are confessing our sins and need of a Savior, turning from those sins to Jesus Christ, who paid sin's penalty on the cross for us. (Romans 5:8) By faith, we receive the Lord Jesus Christ into our lives, calling upon Him to forgive us, to cleanse us and to save us for all eternity. (Romans 10:9-10, 13) If you have any questions about these 3 'R's' or God's wonderful gift of salvation, please contact us. We would love to show you from His word how heaven can be yours simply for the asking.
Morning Worship at 9:30 AM Sunday School at 11:00
Upcoming Special Days:
March 25 Friday Family Film Night at 7:00 PM featuring the Film: Sabina from Voice of the Martyrs
April 3 Communion
April 10 Rev. Darrell Friar, our MARBC State Representative and Camp Director scheduled to be with us
April 17 Easter Sunday
April 24 Quarterly Business Meeting
OUR CONTACT INFO
---
Visit us at 2006 William Ave., Montevideo, MN 56265
(across the street from the Montevideo Middle School)
Call us at 320.269.8841
Email us at info@cornerstonemonte.org